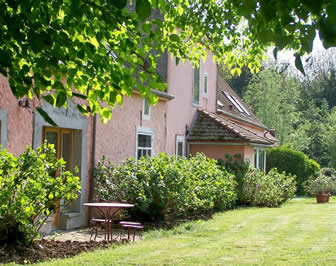 Greenery settings in the heart
of the Site des deux caps
Away from the cities nuisances and stress, la Ferme Rose flourishes in a green valley. you will reach the place, driving through a country road lined with hedgerows.
Large old trees, a beautiful pond surrounded by wild grasses it is true countryside at sea.
This farm-cottage located on the outskirts of Audembert and lies at the heart of « Site de France- Cap gris-nez – Cap blanc nez » right at the bottom of the mont de couple (163mts), last hill standing before Calais and the flat lands of Flanders.
Architecturally, this 4 centuries old farm, is from the same "longère" tradition as the other local manors and farms scattered among the opulent hills of the Boulogne sur mer country side.
The farm settings are are unique, this warm pink colour associated to the white that lits up the frame of the doors and windows reminds us the subtle mediteranean tones combination on the Côte d'Opale. The pigments of Rustrel's ocres have been used on the farm since years 1600.