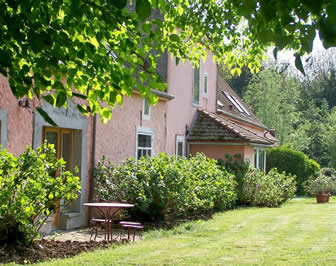 Greenery settings in the heart
of the Site des deux caps
Far from the hustle and bustle of the city, la Ferme Rose site is nested in the heart of a small valley, you will reach the place passing through a narrow road lined with lively edges.
Century old tall trees, a landscaped pond, and wild grass and flowers, the serenity of the countryside so close to the seaside and beaches.
This farm-manor is located at the outskirt of the small village of Audembert hidden at the center of the grand site des deux caps at the foot of le Mont de Couple last hill before the flat maritime Flanders.
Lovely annex to the gite of la Ferme Rose, the Tiny house has naturally found its place on the opposite side of the property at the edge of the woods. Tiny but very comfy, a real cosy nest in a green setting !
Just a few meters from the pond with incredible views on nature and local fauna as wild ducks and geese, deers and other visitors depending on the seasons, for sure you will reconnect and feel the nature !