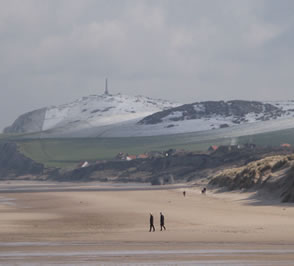 Country Side
The prime location of the Ferme Rose is the starting place of many marked out hiking trails, makes it the perfect spot for nature lovers.
For hikers : From one hour to the whole day walks, seaside or countryside or both. Beautiful ballads in loops around the Ferme Rose.
For cyclists : Small country roads and paths in beautiful landscapes. Bikes rental at Audinghen / Cap Nature.
For riders : Paradise for grazing horses, the Ferme Rose is only 4 kms away from the Warincthun(Audinghen) equestrian centre which organizes countryside trail tours.
For golfers : Wimereux golf course, 11 kms. Hardelot and Le Touquet too.
Sea Side
At 3kms from La Ferme Rose, lays the seaside resort of Wissant, last stranding port of France. The village is in the palm of the beautiful Baie des deux caps and faces the white cliffs of Dover.
Water sports : Wissant, international spot for windsurfing and kitesurfing.
Kitesurfing school at Wimereux, www.wimkite.com
Sandyachting in Boulogne sur mer, www.cvcco.com
Shore fishing, shrimps, mussels and surf casting at Cap Gris Nez.
Cultural activities
Boulogne sur mer : Sea World (Nausicaa, www.nausicaa.fr), the upper town and the Château-Musée.
Calais : Calais Lace museum, Cité de la Dentelle et de la mode. National theatre/scene the Channel.
Audinghen, Ambleteuse, Mimoyecques (Landrethun le nord), Saint Omer, Second world war museums and places to discover.
Desvres : Earthware museum.
Saint Omer : Sandelin museum, various collections.
Convenient information
Wissant (3kms) : shops, doctors, pharmacy, tourist information, street market on Wednesday morning and Friday night in summer period, tennis club and public library (Bibliotheque pour tous).
Marquise (6kms) : Supermarkets, banks, swimming pool & spa, railway station.
Coquelles (19kms) : Frethun Eurostar station, Cité de l'Europe shopping centre, l'Usine outlet shops, Theatre Le Gaumont.